Last week Scouts from Swift, Chapman troops at the 4th and 9th Sevenoaks Scouts took their summer camp at the Kent International Jamboree (KIJ) at the Kent County Showground in Detling.
What is KIJ
Kent International Jamboree is an activity camp for scouts from around the world in the heart of Kent. With over 3,500 young people from coming together to take part in activities and celebrate scouting.
A Jamboree is an opportunity and an experience like no other. Most Scouts and Guides get to experience many different forms of nights away experiences but a Jamboree, whether it's a local, national or international Jamboree is the kind of camp that will live with them forever.
Preparation
Our leaders did our pre-event PR, parent briefing notes, held briefing sessions, gave instructions to scouts, managed people signing up and dropping out, sorted out payment issues, put together an equipment list, checked equipment and ordered spares and replacements, prepared a menu with a shopping list, gate design, packed the trailer, went shopping and finally we were ready to go!
Arrival and Pitching Camp
The leaders brought the trailer to site on Friday evening, and managed to put the marquees up. On Saturday morning we were pleased that we managed to meet up with all our scouts in the main car park, and we walked through the site to our pitch before pitching the remaining tents and building our gate. In no time we were all done and ready for lunch!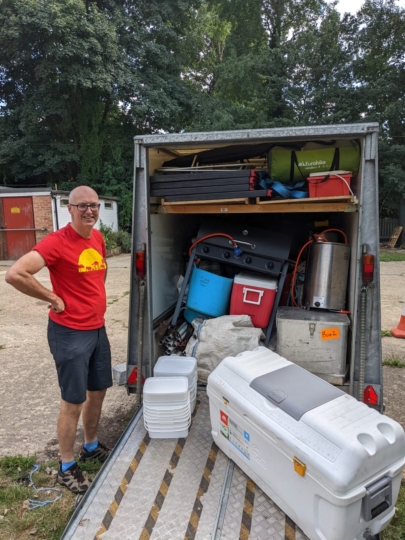 Opening Ceremony
All the jamboree participants gathered in their subcamps, before we 'paraded' to the main stage (that took about 40 minutes).
The ceremony consisted of the jamboree being opened by a procession of flags of attending nations (about 30) and then into the entertainment.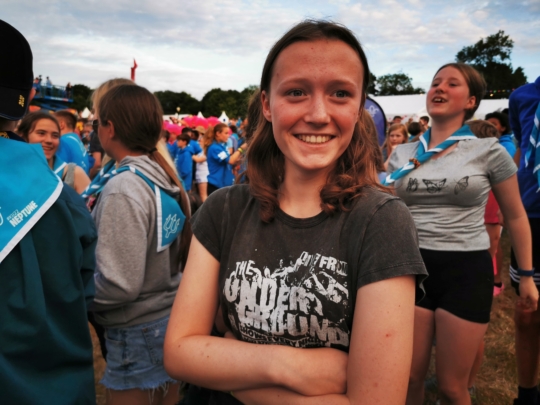 Programme for the Week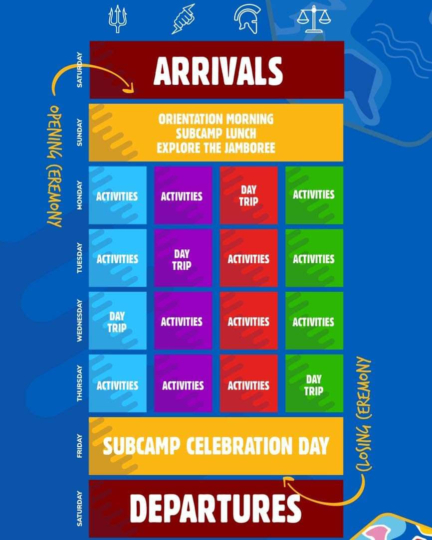 As part of Neptune, our program was two days of activities, daytrip followed by a final day of activities.
Typical activity days start with breakfast at 8am with activities 9am-12:30, lunch and then activities from 1:30pm to 5pm. After dinner scouts were free to socialise / watch a film / go to The Village / watch the entertainment on the main stage until heading to bed for 10.30pm.
Activities
Apparently it was possible to take part in over 100 different activities over the week. We only managed to take photos of our scouts doing some of them.
Daytrip to Hastings
On Wednesday we went for a day trip to Hastings. After some organisational challenges we arrived by coach on Hastings sea front. The scouts disappeared into town to fill up with sugar while we topped up with caffeine and croissant 🙂 We met them at lunchtime for fish and chips at the Old Town Fryer, before heading for the sea to dip our toes.
Meals at Camp
Food, cooking and eating form a massive part of camp life, and Carl put together a great menu for the camp. While not everyone got their favourite, everyone was well fed!
Festival Day and the Closing Ceremony
The final day of jamboree is a festival – with fancy dress, silly games, activities provided by each group on site.
The day finished with another parade to the main stage followed by entertainment and the closing ceremony.
Here is a clip of the closing ceremony (it contains copyrighted music so we can't embed it here) https://youtu.be/GBuZ9vAn7GU
After Camp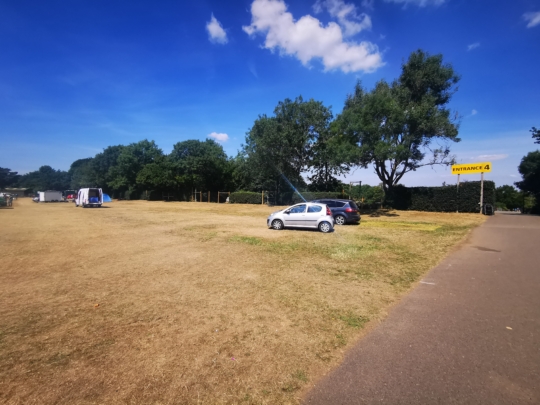 Apart from gridlock in the car park, we all got home safely and all the kit ended up away.
If you attended KIJ with us you should have been sent a link to the full photo album. If you can't find that please message the leaders.
Additionally there are lots of photos on the KIJ Facebook page
Thank you
A big thank you to Carl, Michael, Emily, Elliott, Matt and Rob for organising things. Thank you to the parent helpers that shopped and washed up for us and finally all the scouts that gave us an excuse to go.
Should you want to come along to the next KIJ (as a scout / explorer / leader / parent helper), it will be in 2025